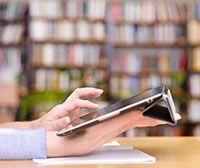 See below for I&R/A news and updates.
Technology in Practice: Contest to Identify Promising Practices in the Use of Technology in Aging and Disability I&R/A Programs
While person-to-person communication is often at the heart of I&R/A interactions, technology is transforming how Americans seek information. Social media, smartphones, mobile apps, ecommerce and other developments are changing expectations for how individuals access and receive information. Additionally, technology has the potential to enhance the administration of I&R/A programs in areas such as data sharing, call center management, and maintenance of resource databases.
In this evolving field, the identification and sharing of promising practices can help strengthen our understanding of the role of technology in I&R/A programs that serve older adults, people with disabilities, and family and friend caregivers. In this context, the National Information and Referral Support Center, administered by the National Association of States United for Aging and Disabilities (NASUAD) and with funding provided in part by the Administration for Community Living, is launching this Technology in Practice contest to identify and disseminate promising practices on the use of technology in aging and disability I&R/A programs. We encourage organizations to think broadly about their use of technology, including practices that make better use of existing technology, those that leverage low-cost technology, and those that adopt new or emerging technology.
Please view the link below to find more detailed information about eligibility, selection criteria, and awards. For the submission form in an alternate format, please contact I&R Support Center Director Nanette Relave at nrelave@nasuad.org. The deadline for submission entries is Tuesday, February 28, 2017.
Click here to enter a submission for the contest.
Monthly Technical Assistance Webinars
Click here to view recent and upcoming I&R technical assistance webinars coordinated by the National I&R Support Center.
Presentations from the National Aging and Disability Symposium and Aging and Disability Workshops at the 2017 AIRS Conference
The 2017 Pre-Conference Summit included an interactive training on motivational interviewing for aging and disability professionals.
Click here for the agenda, presentations, and the aging and disability workshop presentations.
Accountable Health Communities Opportunity
The Accountable Health Communities (AHC) initiative is a new model under the Medicare and Medicaid Innovation Center that will examine whether systematically identifying and attempting to address health-related social needs of Medicare and Medicaid beneficiaries through referral and community navigation services can impact health care costs, reduce inpatient and outpatient health care utilization, and improve health care quality and delivery. The AHC initiative incorporates information and referral/assistance, including maintenance of a community resource database, as key elements of the initiative. The model includes three tracks with interventions of varying intensity that will link beneficiaries with community services and test a set of questions:
Track 1 Awareness - Increase beneficiary awareness of available community services through information dissemination and referral
Track 2 Assistance - Provide community service navigation services to assist high-risk beneficiaries with accessing services
Track 3 Alignment - Encourage partner alignment to ensure that community services are available and responsive to the needs of the beneficiaries
For aging and disability I&R/A agencies interested in learning more about this initiative, the Innovation Center has posted a set of AHC Model FAQs at https://innovation.cms.gov/initiatives/ahcm/faq.html. For more information on AHC, including the funding announcement, visit https://innovation.cms.gov/initiatives/ahcm/index.html.
Report on Challenges and Opportunities within the Information and Referral/Assistance Networks
The National Information and Referral Support Center, administered by NASUAD, in partnership with the National Council on Independent Living (NCIL), shared findings from the aging and disability I&R/A field in the report The Changing Landscape of Aging and Disability Information and Referral/Assistance: 2015 Survey of Aging and Disability I&R/A Agencies. This report captures the current state of I&R/A service provision, including trends and developments, challenges and opportunities, and promising practices, through survey responses provided by representatives from state agencies on aging and disability, Area Agencies on Aging, Aging and Disability Resource Centers, Centers for Independent Living, non-profit human service organizations and national organizations. Key themes to emerge from the survey data are:
Theme 1: Funding and Sustainability are Significant Concerns among Aging and Disability I&R/A Agencies;
Theme 2: Partnerships and Networks Continue to Evolve to Serve Both Older Adults and Individuals with Disabilities;
Theme 3: A Changing Environment and Expanding Roles Provide New Opportunities and Challenges for I&R/A Agencies;
Theme 4: Quality Matters to Effective I&R/A Service Delivery; and
Theme 5: The Use of Technology has Increased, but There Remains Room for Growth.
Survey findings underscore that aging and disability I&R/A agencies are operating in a time of change. In a policy, fiscal, and service delivery environment that presents both challenges and potential opportunities, aging and disability I&R/A agencies must continue to cultivate partnerships and leverage innovations that enhance and modernize the provision of I&R/A services.